Having read a blog review (
Wargaming for Grown-ups
)of the old SPI game
Fighting Sail
, I was reminded that I had bought a copy of the game, way back (1981). I had never played it! At around that time, Yaquinto or some such outfit produced the game Wooden Shops and Iron Men, which, I gather, drew forth at the time considerable accolades. They rather put the SPI game into the shade.
One of the features of the WSAIM game was that it was played on a hex grid, but the SPI chose a square grid. In my view the SPI choice is the better for the Age of Sail, as better to depict the four points of sailing: beating, reaching, broad reaching and running before the wind. The game uses the 'movement allowance' system of 2 'movement ponts' for orthoganal and 3 MPs for diagonal movement. There are also tacking and wear ship commands for changing course and direction by more than 90 degrees. How the ships coped with the wind depended upon their sailing qualities, an A-grade vessel being a fine sailer with a well-trained crew; a C-grade being unhandy and/or with an ill-trained crew.
Points of sailing. The arrows indicate wind direction
relative to the vessel.
I mentioned this to fellow blogger and Christchurch war gamer, Paul 'Jacko' Jackson. A few evenings ago he came round with the interesting items pictured. They came from a Pirate game, which I ought to have looked at more closely but I was fascinated by these clip-together vessels. I've shown them here on part of the square-grid SPI game playing surface.
The large 3-4 masted vessels look like line-of-battle ships;
the 3-masted fore-and-aft rig is a schooner, apparently< the
square-rigged two-masted vessel I'd call a brig, or maybe a sloop,
and the single masted boat, I've been calling a cutter..
...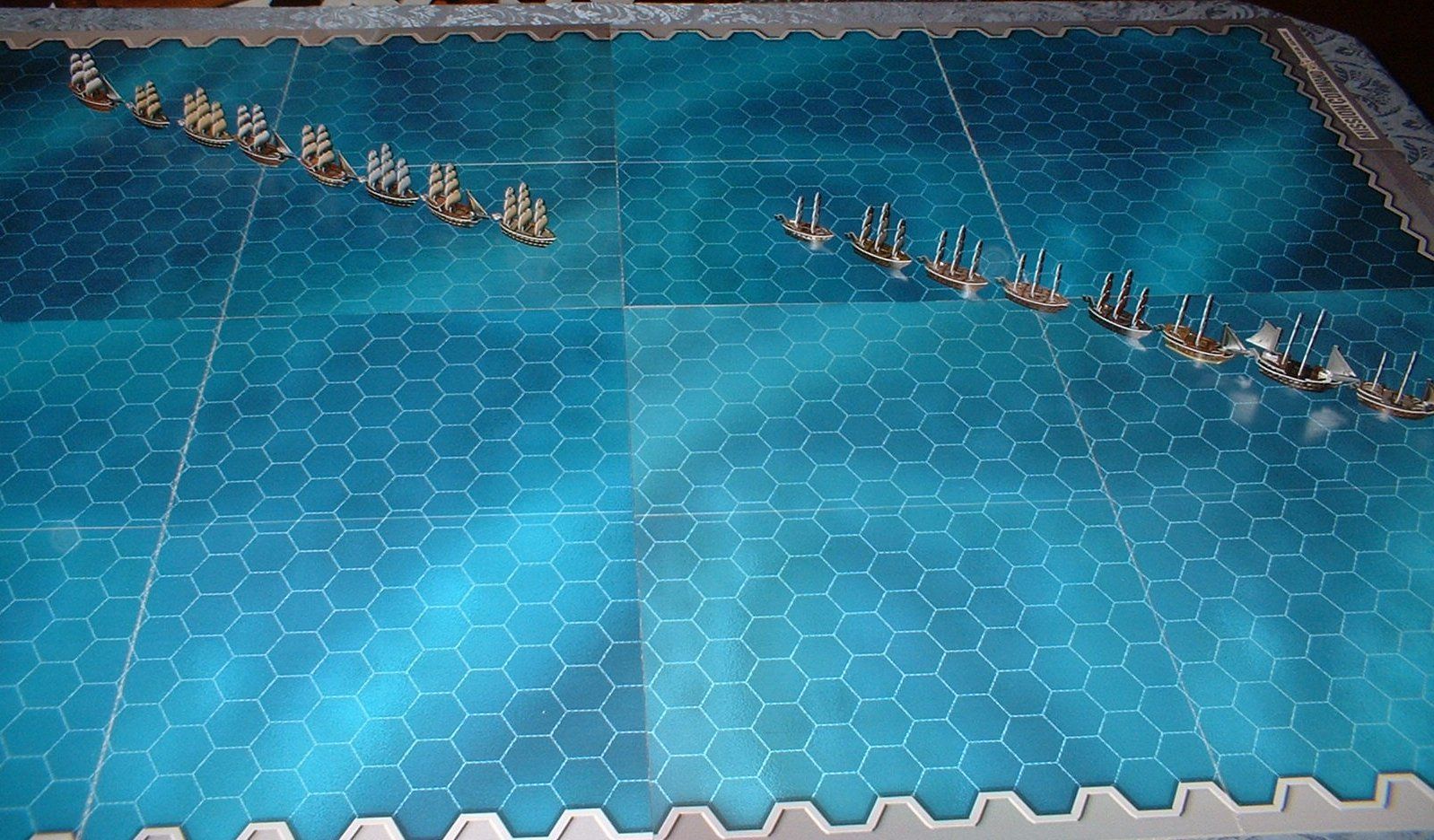 Wooden Ships and Iron Men game. The vessels in look very similar to the Pirate game ships and small craft.
Can these vessels be used on the Fighting Sail playing grid? Possibly, with some tweaking, bearing in mind that most of the ships take up two grid areas. I'm already wondering about roping in all the small craft for a Battle of Lake Erie (1812) game...